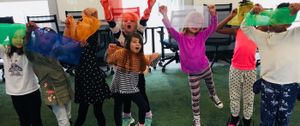 "

Engaging, developmentally appropriate, and refreshingly relevant!"
— EL Principal at The Galloway School
 IN-HOUSE SCHOOL FIELD TRIPS 
Mr. Greg's Musical Madness offers original, IN-HOUSE school field trips throughout the country in schools, libraries, museums, zoos, botanical gardens, nature centers, camps… you name it! 
Mr. Greg's interactive, fun-filled programs are based on some of the themes from the Parents' Choice Award-winning "Lots of Fun!" CD, with many of the songs themselves interwoven throughout the programs. Watch this short video of Mr. Greg's FUNtastic Band at Elementary Schools to get a better idea of just some of what we offer!
Contact us at MrGregsOffice@gmail.com to get started!
ENRICHMENT & Whole- School PROGRAMS
Mr. Greg and his highly trained instructors are excited to offer this Award-winning music enrichment program to your budding musicians! While engaged in a variety of fun, creative activities, children learn musical fundamentals that will remain with them for years to come. Through music, art, movement, creative expression, and vocal & instrumental play, students gain a greater understanding of rhythm, dynamics, pitch recognition, tempo, music notation, and more! 
Mr. Greg's Musical Madness is the recipient of two national grants for outstanding music programs related to preschool, kindergarten, and lower school-aged children, so come join Mr. Greg and his instructors in this unique, fun-filled musical journey!
Contact us at MrGregsOffice@gmail.com for more information.
SUMMER CAMPs
Our instructional method is to ensure that children are joyously engaged in music, movement, and games in order to fully grasp the concepts we are teaching them. We believe that this is the best way for children to learn! 
We recognize the importance of hands-on activities; freedom of thought, creativity, and expression; and REST in education. While we are careful to implement all of these ideals into our in-semester classes, we recognize that they are absolutely essential to the atmosphere of a summer camp! 
For this reason, we take great care to teach students through summer-fun activities, ensuring that they will have an experience that will benefit them throughout the rest of their lives!
Start planning your summer camp now! Contact us at MrGregsOffice@gmail.com
Parents & schools, Be sure to check out our BRAND NEW options for virtual programming!
Already know that you want to bring Mr. Greg's Musical Madness to your school? Check out our NEXT STEPS page!